The Male/Female Perspective: Beyonce Encourages Us to "Get in Formation"
In February of this year, Beyonce surprised the world by dropping an unexpected music video to her new single, "Formation." The song, which bares catchy lines that celebrate black culture is brought to life with images of Black Lives Matter imagery, calls for an end to police brutality and scenes depicting the horror of Hurricane Katrina. Following the release of the video, Beyonce's Super Bowl performance was just as politically charged, using an all-black female cast of dancers sporting afros. With herself and dancers dressed to resemble the Black Panthers and even raising their fists in the Black Power salute, the star instantly received backlash by police and others who viewed her as inciting a racial divide and anti-police sentiment. Her apparent support of the Black Panthers, a group that many of the criticizers deemed as one that promoted violence and police hate, though it did not, angered many who felt the Super Bowl was not a place for such a statement.

SGMagazine asked twelve 10th graders from St. Louis' famed Sumner High School their opinion of what they took from watching both the "Formation" music video and the Super Bowl performance. Here's what they said:
---
Male Perspective

"Well, as I watched both,

I kind of noticed that Beyonce was sending a message to black people. Beyonce basically states that slavery is still here."

-Michael Benford

"That we as black people are tired of police racism, the stuff they do and how they talk about us, disrespect us so much."

-Markeal Lenoir

"To me it means being black and feeling good about it, being black and different and that black is beautiful and all blacks should respect themselves. She teaches us that the Black Panthers did a lot for us."

-Theodore Boyd

"I believe in my history and culture. The "Formation" video brought up that black people are unique. Also, White America can be overpowered. The Super Bowl performance showed that Beyonce has black power."

-Kean Hollis

"The video was nice. The dance routine was what I liked. What I picked up about the performance was that Beyonce, as a black woman, came out representing the Black Panthers. For the police, they were worried because of what the Black Panthers did for our community back in the day."

-T. Cole

"It was a strong message for black people. There were messages from Malcom X to the black power fist. They also wore their natural hair without it having any chemicals."

-Ozaiah C.

Female Perspective

"Both show me how to stand, how to get a point across without stepping out of line. It shows the black heritage and the power of people and what they are known for."
-Jayla Long

"Beyonce's video means to me that she cares about black lives and wants us not to feel ashamed about who we are and our skin color. For instance, in the Formation video she was saying how she likes her black hair and nose. Also, she kept saying how we are "stars and to twirl on our haters." In the Super Bowl performance they dressed like Black Panthers with their afros on. Also, she put her fist up for black power to show we matter."
-Anastasia Roberts

"Her video means a lot to me, because she basically celebrated being black and let me know I should be proud of who I am, and I know she's proud. She didn't care what anybody thought about her."
-Andraea Rhodes

"What I think about Beyonce's music video and Super Bowl performance is that in her video it showed more usage of life experiences and how it was back in 2005 in Louisiana with the hurricane they had. In her Super Bowl performance she showed more respect to the Black Panthers and Malcom X. I take from those two videos that it showed black lives matter and police must stop killing our blacks."
-Brianna Bennett

"I think it's a powerful message with both the video and the performance, because she wants us to know it's okay to be you. It brings clarity that our race matters as much as any other. What I took from this video is all this police brutality didn't just start in our generation, she was shining light on that. Also, we have a bigger voice than what we thought."
-Destiny Boyd

"I think that her performance was great, because I'm black and I understand how it feels to be put last or have to fight just a little harder than the next race."
-Lashonda Brown




Powered by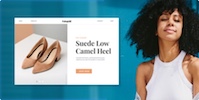 Create your own unique website with customizable templates.