From Rhythm to Lyricism: The Complexity of KT GoriqueWritten by Aviana Brown, @heavenatnight24
​Toward the end of my nomadic trip around Paris, France last year, I caught a screening of the film
"
BROOKLYN" in the working-class community of Saint-Denis. Mostly populated by the city's African and Arab immigrants, the film's director, Pascal Tessaud, used it as his backdrop to bring the hip hop drama to life. With a full cast of local artists from the area, the lead role, however went to a rare talent a few countries away.
You couldn't have told me then that months later, I'd be sitting down at a local coffee shop in St. Louis interviewing the film's star and hip hop artist, KT Gorique. As she fidgeted with her camera to begin Skyping me from Switzerland, I imagined her being just as illuminating as her character in "BROOKLYN." As the camera finally came into focus, I was greeted with the same charming smile that I remember onscreen and locks that now hung at her shoulders.
The film chronicles Coralie, a young, black female MC's journey to hip hop stardom who goes by the stage name Brooklyn. Losing her mother at a young age, at odds with her father and motivated to seriously pursue music, Coralie runs away from Switzerland to conquer her dreams in Paris.
After touching down in the community of Saint-Denis, Coralie finds work as a janitor and cook for a local hip hop association that works with young talent in the area. Brought up for an unexpected freestyle during an open mic, she overcomes her initial stage fright to overwhelm the audience with her sharp lyrics and dynamic flow. Coralie's rhymes then caught the attention of the association's lead social worker, who nurtures the future star's career throughout the film. Gripped by the character's inspiring climb to fame, I was thrilled to finally meet the woman behind Coralie.
With her Swiss accent and laid-back but confident demeanor, KT Gorique gets straight to the point on why she defines herself as opposed to society's tendency to manufacture fixed identities for women in hip hop. "The way a woman has to prove herself to have respect as a female MC, the stereotypes, life experiences, the fight to stay myself as a woman, as an artist," KT Gorique says of her journey.
It is these sentiments that KT Gorique says helped her to play "BROOKLYN's" leading lady Coralie. "That's what I could bring to the character," she says of the role's similar obstacles.​
---
"The face painting is a reference to female African warrior's make up.

It shows the difference between my everyday life and my mission into the music.

I describe myself as a hip hop warrior, cause I fight everyday to make hip hop culture

survive and share positivity and love to the people." –KT Gorique
---
From as far as KT Gorique can remember, her life has always revolved around hip hop. She began writing and dancing at eight years old, but it wasn't until much later that she chose to add MC'ing to her repertoire. "One day I took beats to songs and tried to rap on them, to freestyle," says KT Gorique of her evolution as a hip hop artist.
Originally born in the West African country of Ivory Coast, KT Gorique moved to Switzerland at the young age of eleven.
The family departed the country after a rift between the Muslim North and the government-controlled Christian South led to a civil war in the region.
"
It just wasn't safe," she says.
In 2006, KT Gorique began to pursue music professionally and formed the group Brothers Fire with bandmates Opak and Ar-J. The only woman in the band,
their 2010 mixtape
3ème Degré
(3rd Degree) and the 2011 mixtape
Catégorie à Part
(Separate Category) earned favorable recognition throughout Switzerland.
​
Her knack for word play (such as studying the thesaurus from cover to cover) led her to win the Swiss End of the Weak rap competition in 2012, becoming the the first woman to earn the title. That same year KT Gorique went on to win another first for women by taking home the competition's World Freestyle Championship title in New York City, battling some of the world's most talented emcees on the basis of improvisation and creativity.
KT Gorique describes coming to New York as a dream come true, because of the city's strong history of hip hop. Though miles away from her homeland, she immediately identified with the Big Apple's culture. With a little free time outside of the competition, the World Champ was able to roam around Brooklyn and get a feel for the famed borough. "New York felt like home," she says of the big city. "Black people are black people."
​​
Surprisingly, securing the lead role for the film
"
BROOKLYN"
was not on KT Gorique's radar and seems more like a grander act of fate judging from how she snagged the part. She had no previous acting experience. "The director of the film, Pascal Tessaud, he sent me a message on Facebook. It was the only role he hadn't filled yet," she says of the random opportunity. "I then left Switzerland to come to Paris and shoot the film," KT Gorique says of her departure that's much like Coralie's impulsive journey to the city in the film.
KT Gorique insists that overcoming fear as her character Coralie was forced to do is essential to surviving as an artist among many who may not appreciate your unique style. "If someone feels like music is calling you, then do it. Forget the people, forget the lights, you spit the first line and all the fear disappears," she says. "You fly, when you share emotion by music."
The artist's self-assurance and ability to deflect negativity is what keeps her moving forward in what she describes as her true purpose. With an enigmatic ease yet serious tone, she is adamant about why harmful energy fails to dictate how she operates as an artist. "When I look in my eyes, I feel good with me," she says. "If they don't like it, I don't think about those people, I don't even see them." It is this kind of thinking that has contributed to the hip hop star's free spirit and ambition to be the best. For KT Gorique, it's all about the music and being honest about her outlooks on life. "I express myself, and the things that hurt me," she says of hip hop. "So, I don't have frustration in my life."
With "
BROOKLYN"
now hitting theaters across France thanks to a widespread distribution deal, legions of moviegoers will not only be exposed to the next global sensation that is KT Gorique, but also the common threads that link black people together from across the globe. In this case, viewers will see the impact of American hip hop that continues to give voice to hardship and oppression that viciously impacts black communities. A voice that KT Gorique knows all too well.
​
​This fall, fans will get even more of a glimpse of her call to service as she releases her first solo album,
Tentative de Survie
(Attempt of Survival). "I'm going to tell the stories of black people, immigrants and African immigrants," she says of the album. She describes it as being dedicated to the concept of survival and transforming negative realities into the positive.
In between focusing on her solo projects outside of her band Brothers Fire, KT Gorique is pursuing a degree in social work. Her interests in this field and love for hip hop continuously overlap as she works with youth teaching them to dance hip hop and how to write rhymes.
Ultimately, KT Gorique looks forward to making more music with her band in the future and to finally return home to Ivory Coast and reunite with family. Since leaving as a child, the native has yet to return to the country and has only been back to the African continent once with a trip to Senegal last year. She insists that making a journey to the Motherland is essential.
Continuing her profound renderings on art inspired by life, KT Gorique is committed to the idea of granting timelessness to her self-expression by way of the people it penetrates. To KT Gorique, music is a sure way of giving her feelings eternal life. "I want to make things never die, to be immortal. The things I understand in my conscious, I want to make ideas and feelings immortal by sharing them with people," she says. "Everybody feels numb, pain, we all are human. We are not alone."
From staking her claim as a woman in a male-dominated industry to voicing her concerns of the oppressed through a multicomplex of creative forces, KT Gorique's journey is triumphant with many more victories to come. She is a messenger of the heart, a vision of relentless pursuit and bravery and one that ultimately leaves a spectator like myself, speechless in admiration.

​Rachel Huggins, a Washington D.C.-based journalist, served as contributing editor. Follow her @HugginsRachel



Powered by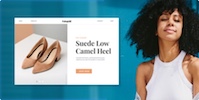 Create your own unique website with customizable templates.