THE SPOTLIGHT | Getting to Know LWay: The Jack of All Trades on the ST. Louis Hip Hop Scene
June 2016

The producer, composer and artist talks his music group MHMG, knowledge gained from the E.I. By Nelly Institute and a slew of projects and shows on the way..
Q: Where are you from and what high school did you graduate from?
Lway: St. Louis. I graduated from Vashon High School

Q: Tell me about your music group you helped start, MHMG
LWay: MHMG or McKinney and Harris Music Group initially started as a merger between Gerrod McKinney and myself in 2006. Back then music was just a hobby for us. A medium that let us express ourselves positively. Today, our roster consists of 5 artists and 4 producers.
Q: What did you learn at the Ex
'
treme Institute by Nelly at Vatterott College that helped leverage your music career?
LWay: I gained an insider knowledge of music and the entertainment business. Everything from composing instrumentals, writing lyrics that listeners can relate to, being a dynamic performer, to how to market an artist and product. These assets were the reason I decided to attend E.I. in the first place. I've also gained other skills such as running live sound and audio engineering, which I've been making a living from since the day I learned them.
​
Q: Did you pick up any gigs along the way?
LWay: While attending E.I., I picked up a job as a DJ and running sound at a strip club. The equipment wasn't "modern" lol but the music was always right. I also started freelance engineering. Today, I engineer at Phat Buddha Productions.
Q: Who are some artists that you compose and produce for?

LWay: Louis Conphliction, Cypher the Avatar, Lil Ralph, Bammbino, Calvin & KM, Saint Oeaux, Deroyale, High In Public, Short Dawg, Yung Ro, J Marz, M-Eazy, and Rocham Breaux just to name a few.

Q. What's something major that's poppin off for you right now?

LWay: Definitely shows. They've been essentially to connect current and future fans. And sharing the stage with acts like Key!, Hawthorne Headhunters, Miistro Freeyo, Tef Poe, Bo Dean, MME, rudeCREW and Arshad Goods doesn't hurt! I've done Slumfest, I've done SXSW, I'm looking forward to rocking A3C, Coachella and Buku Fest in their upcoming events. I've had a few deal offers thrown my way but nothing noteworthy enough to ink my name

Q. Any major collaborations?

LWay: I just did a bit of work with Trill Fam's Thuggaman and Lil Trill. Very uplifting trap music.

Q. What should people be on the lookout for and where can they listen to your music?
​LW

ay: I'm currently Executive Producer for the artist Hooodluum's upcoming project titled "The Ozzie Smith Project" or "TOSP" for short. TOSP embodies everything urban St. Louis stands for. For consistently hard hitting drum patterns and melodic soundscapes, Hood recruited St. Louis producer, Demolition Man.

The Ozzie Smith Project is scheduled to be released July 2016 through all major online distributors.

Check out music from MHMG at https://soundcloud.com/mhmg
Powered by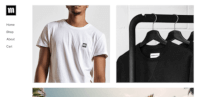 Create your own unique website with customizable templates.