In honor of National Arts in Education Week 2015, Sistahs & Guys Magazine organized and hosted the event Celebrating My Unique Through Art, An Anti-Bullying Campaign in St. Louis, Missouri. The three-day celebration ran from Thursday, September 17th through Saturday, September 19th and voiced advocacy for increased art education, participation and access as being paramount to addressing youth violence and decreasing negative or non-inclusive behavior among youth in the St. Louis City region.

Celebrating My Unique Through Art promotes art as a vehicle for healing, self-discovery and individualized character building. The understanding of one's unique self, ultimately leads to the understanding of the people around you as being unique as well, decreasing the instinct to bully others who may not fit into certain standards of acceptability dictated by peers and society at large.

With the focus on the art forms of music, film and street art, each event drew from each one of these modes of expression: September 17th, 2015- Celebrating My Unique Through Film-

The St. Louis premier of the French hip hop film, BROOKLYN at the Tivoli. Formerly shown at Caanes Film Festival (ACID) 2014, directed by Pascal Tessaud and starring hip hop artist KT Gorique.

September 18th, 2015-Celebrating My Unique Through Music-

A special presentation at Sumner High School, the first to admit students of color West of the Mississippi River. This program featured motivational speaker Traci-Berry McGhee, St. Louis hip hop artist Bo Dean, SGMagazine DJ DruVon Humphries and the play "A Bully's Story" written by Tracy Watkins especially for this event and performed by Sumner High School seniors.

September 19th, 2015-Celebrating My Unique Through Street Art-

Taking place

on the 2600 Block of 14th Street, this event f

eatured artists Brando Buxx, Daniel Jefferson, Chauncy Gholston and Zeuser, who each spray painted uplifting images on boards that were later donated to board up homes in North St. Louis. Music was provided by DJ Reminise alongside drummer Jerome "JD" Day.

*

Read more about the event in the SGMagazine article

here

or check out the radio interview that aired on 100.3 the Beat with iHeartRadio's Jade Harrell on "Community Connections with Jade Harrell"

here

​or

here..

Special Thanks To:
Financial Contributors:


​​Spray Paint Contributors:

​Others:

Aviana Brown, SGMagazine Creative Director/Co-Lead Event Organizer
The Festival Agency-Paris, France
The City of St. Louis Board Up, Street Art Board Contributor
The Gallery @ 2603 N 14th Street, St. Louis MO.
Maisha Ayodele, Creative Strategist
Traci Berry-McGhee, Motivational Speaker
Annette Fields, Marketing Graphics and Website Design Assistant/Sumner High School liaison
Rachel Huggins, Editorial Consultant
DruVon Humphries, SGMagazine DJ/Event Production
Joneesha Humphries, Event Production
Korita Humphries, Event Production
Kate Howell, English Instructor at Sumner High School
Erica Oliver, Head of Press/Social Media
Kevin Robinson, Photography/Site Design & Construction
Pascal Tessaud, Director of BROOKLYN
Richard Tibbs, Event Staffing
Dr. Michael Triplet, Principal of Sumner High School
​Erick Vilson, Consultant
Marshall Trey Watkins, Event Production
Tracy Watkins, Writer of the play "A Bully's Story"
Keisha Williams, Consultant
Lindsey Woods, Sponsorship Sales










Powered by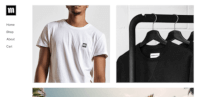 Create your own unique website with customizable templates.