Bo Dean Reflects on the Highs and Lows of Being Young and Black in America on New Album, "Fromerica"
Written by Aviana Brown July 15, 2017
On the United States of America's 240th celebration of independence, St. Louis hip hop artist Bo Dean dropped his first full-length album and most anticipated project to date, Fromerica. Loaded with songs that embody the hard knocks of being born black in America, the album's 4th of July release date wittingly taunts America's declaration of freedom. Prophetically, Fromerica finds us just one day prior to the recent unjust killings of Alston Sterling and Philando Castile the very next, making the arrival of this project all too surreal. Working with some of the most sought after producers like Crisis and King Cash and numerous features from Neiman Martin, Tylan and Louie Boy among other St. Louis artists, Bo Dean has created a cohesively sound 16-track project, putting him in a lane of his own.

Fromerica weaves in and out of the economic and social burdens of black life in America, starting with the opener "Ditto," the TimeOut produced "All My" featuring Sal Calhoun and cuts like "Ricochet" featuring Tylan and "Riots/CointelPro" as he recalls the emotional days of Ferguson post Michael Brown's death.

Though Fromerica's tone is overall serious and commands listeners to acknowledge reality and the need for change, Bo Dean is adamant about why one who bares black skin of all shades should carry pride on their shoulders via tracks like "Thank God I'm Black" and "I Think I Luv Her," an ode to the black woman. He comes up for air to reminisce on the natural highs and beauty that being born black can bring on songs like "Mental Vacay" with Tylan once again, "Afrikan 80'z Baby" featuring Louie Boy and "Reflectionz."

Experimenting with a range of flows per usual, Bo Dean's content is witty, diverse and exceeds expectations once again with his sharp and quick wordplay on the catchy "Hiatus," produced by Trifekta with a strong lead feature from Attitude and "Diamond's and Gold" featuring Young P and Louie Boy. He taps into his knack for storytelling on the track "Karma" with Cheron Brash, putting us in the shoes of one seeking revenge on a killed love one, a reoccurring scenario in America's ghettos. Bo Dean ends on a somber note with "The Man" as he slips on the skin of the white majority and interprets the reason for its oppression of the black and brown peoples of the world. Fromerica is hip hop-alive and well.

Stream and purchase Fromerica at http://bodean.bandcamp.com/album/fromerica, Spotify, iTunes, Tidal and all major streaming sites. Peep the photos to the left of Fromerica's official listening party at Utopia Studios.
Powered by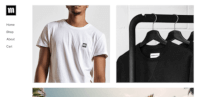 Create your own unique website with customizable templates.