The Black Presence in World History:
Who Was Beethoven?
​Written By Kimberly Robinson
Ludwig Van Beethoven (Dec. 16, 1770 – Mar. 26, 1827) was a black pianist composer. His mother was a Moor of the Black Muslim group.

​

Considered Europe's greatest music composer, Beethoven's personal life was marked by deafness. Some of his most important works were composed during the last 10 years of his life, when he was quite unable to hear.

Two of his more popular compositions are "Beethoven's Fifth Symphony" and "Moonlight Sonata."

​Quotes from Beethoven:

Anyone who tells a lie, has not a pure heart and cannot make good soup
Recommend to your children virtues that alone can make them happy, not gold.
Music is the mediator between the spiritual and sensual life.
Ever thine, ever mine, ever ours.
Powered by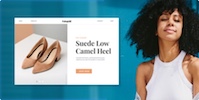 Create your own unique website with customizable templates.